News
The Bucci Laser Vision Staff hopes you'll join them in congratulation Frank A. Bucci, Jr.,MD for being honored with the 2012 Governor Robert P. Casey Medical for a Lifetime of Service to our communities.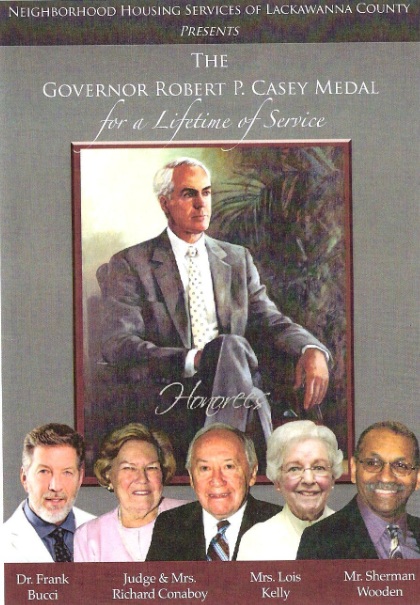 While perhaps best known throughout our community as a man of medicine bringing the gift of vision to many, his own genuine humility keeps many more from knowing that he is truly a visionary man of healing in so many more ways. A gentleman of deep faith, tremendous conviction and boundless energy, Dr. Bucci generously utilizes his God-given gifts in active service to others. By founding the Instituto de Ojos Sacro Cuore in Peru, he brings hope to the hopeless. Born from his own deeply personal loss, he founded Hospice of the Sacred Heart to bring dignity and joy to those facing their end-of-life journeys. Whether on the world stage or in the epicenter of our own valley community, he persistently gives of himself for the betterment of all.
---
Dr. John W. Boyle, Board Certified by American Board of Optometry
One of 730 ODs to Achieve ABO Board Certification


ST. LOUIS, March 22, 2012-
Dr. John W. Boyle
, of Clarks Summit, PA, was one of the first optometrists in the nation to become board certified by the American Board of Optometry (ABO). Dr. Boyle passed the ABO's Board Certification Examination administered in Nov-Dec 2011.
To attain his honor, Dr. Boyle completed an accredited residency or a series of rigorous post-graduate activities. He then passed a challenging examination on issues spanning the scope of the practice of optometry. This achievement earned Dr. Boyle the title of Diplomate, American Board of Optometry.
Dr. Boyle has enrolled in the ABO's Maintenance of Certification program. The ten-year maintenance of certification process is designed to allow the doctor of optometry to demonstrate that he is dedicated to keeping current in the field of optometry and delivering quality patient care.
"We extend congratulations to the group of optometrist who have taken the first step in demonstrating their commitments to lifelong learning," said Paul C. Ajamian, O.D., ABO Chairman of the board.
For more information, or to schedule an appointment with Dr. Boyle, call Boyle Eye Specialists in Scranton or Pittson at (570) 558-5566 OR Bucci Laser Vision in Wilkes-Barre at (570) 825-5949.
---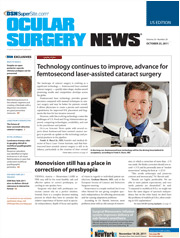 Dr. Bucci was featured on the cover of Ocular Surgery News.
---
Dr. Bucci presenting Former President Clinton with a certificate & engraved Silver Plate
May the Sacred Heart of Jesus Bless
WILLIAM JEFFERSON CLINTON
With humble gratitude we thank President Clinton
for assisting us in fulfilling our mission statement to
"MAKE BLIND PEOPLE SEE"
Presented June 8, 2010 at
Instituto de Ojos
Sacro Cuore
---
Read the Clinton Foundation Press Release
---
Frank A. Bucci, Jr., MD leads the United States in implantation of a revolutionary new multifocal intraocular lens – the TECNIS multifocal.
Frank A. Bucci Jr., MD is the #1 implanting surgeon in the U.S. of a new revolutionary multifocal intraocular lens. The lens is called the TECNIS multifocal and Dr. Bucci is the first and only eye surgeon in NEPA to implant this recently FDA approved advancement in multifocal implant technology. Since the release of the TECNIS multifocal lens in early March, Dr. Bucci has successfully implanted this breakthrough multifocal lens in over 60 patients. Read more...
---
BUCCI LASER VISION PRESS RELEASE – Instituto de Ojos Sacro Cuore – Lima, Peru
Frank A. Bucci ,Jr., MD and Bucci Laser Vision staff members Loretta Amico,R.N., CNOR, Donna O'Donohue, CST, Barbara Michalek, MAA, and Ruth Evans, COT, traveled to Lima Peru in December and experienced first hand that giving far exceeds receiving. Read more...
---
Citizens Voice Local Spot Light
An OPHTHALMOLOGIST is either a medical doctor (M.D.) or an osteopathic physician (D.O.) who is qualified and especially trained to diagnose and treat all eye and visual system problems, both medically and surgically, as well as diagnose general diseases of the body. Read more...